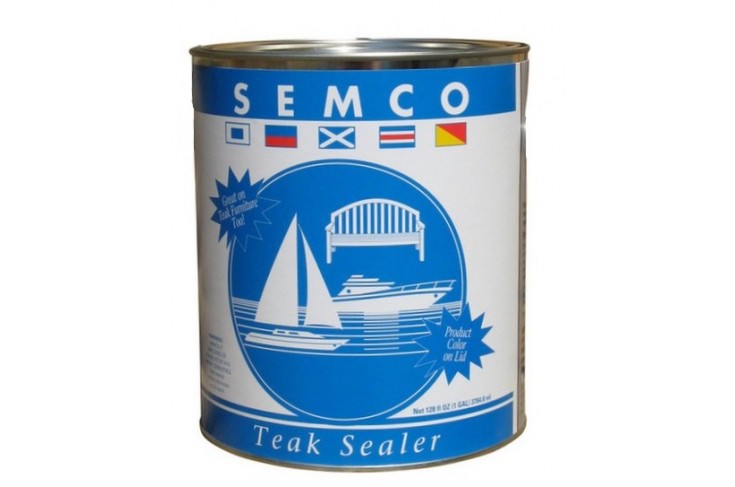 To preserve the teak in its natural color for an extended period of time SEMCO is proud to offer our SEMCO Teak Sealer. SEMCO Teak Sealer is a solvent based teak finish with water-like viscosity containing pigments, mildewcide, UV inhibitors and moisture protection. SEMCO does not contain silicone, varnish, polymers or exotic oils.
When SEMCO Teak Sealer is properly applied to teak, the wood will look as if it has nothing on it, yet it will not turn gray or support the growth of mildew. Surface soil can be washed away with mild detergent, and with seasonal recoating the teak will be preserved in its natural state for many years.
Features include:
Gives wood the golden-tan glow of slightly weathered teak.
Lasts through the season and can be renewed without deep cleaning or stripping for years!
Repels water without being slippery.
Relieves the drudgery of constant teak maintenance.
Known the world over as the best protection for teak.
SEMCO TEAK TREATMENT is renowned for its outstanding durability and long lasting performance.
Easy to apply and withstands staining, weathering and discoloring up to a year.
A water-based, environmentally-friendly teak finish.
It will slightly darken the shade of the wood and the more coats applied the greater the shine.
Contains pigments, UV inhibitors, and moisture protection.
Approximately Usage : Coverage is 200 square feet per gallon for the 1st coat and 400 square feet per gallon for the 2nd coat.
Teak Sealer for boats and teak furniture.
Semco Teak Sealant / Protector - Natural Tone (1 Gallon)
Retail Price

$149.00

Online Price 32% OFF

$100.58

+ $17 shipping
In Stock: Ready to ship*

Delivers 09-Jul - 11-Jul
Materials
Indonesian Plantation Teak